ARIZONA PRODUCTION DIRECTORY
Get found for work and increased film industry business! Register as crew, talent or a support service business with the Arizona Film & Digital Media's new Production Directory. You may list yourself with all three sub-directories, if applicable, but you must create a separate profile for each one.
Crew Verification Process 
For Crew listings, please submit a call sheet AND a paystub for each job category that you select in an email to info@gofilmaz.com with the subject line "Verification." These references will be used to confirm the duties you performed. If a call sheet or a paystub is unavailable, you may submit, in either one of its place, a Letter of Reference from a member of the production's hiring staff to confirm your duties. If you have any additional questions, email ramsayw@azcommerce.com.
Benefits 
By registering you are not only visible to filmmakers looking to crew up, find talent and businesses that support them, but you also gain valuable access to discounts and rebates that help you save money via our new Reel Savings entertainment industry discount program. If you need further assistance, please contact us.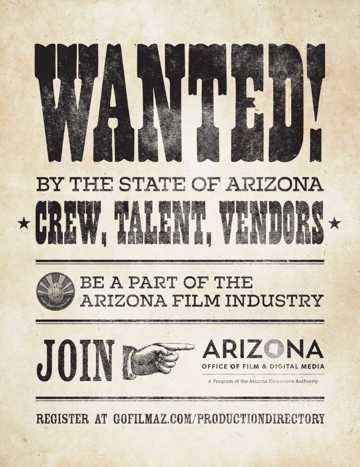 ---